Pumpkin rocks and I'm not just talking pumpkin pie!
The easiest and cheapest way to get your hands on pumpkin is with
Libby's canned 100% Pure Pumpkin
. It's already cooked, contains no salt, no sugar, no flavorings or preservatives, just plain pumpkin, people! Keep in mind that you want the 15oz. can of Pure Pumpkin, not the larger can of Pumpkin Pie Mix.
Why eat pumpkin?
For one, it's delicious - why would you ask such a question? Ok, ok, here's more reasons: it's high in fiber, full of nutrients: potassium, calcium, Vitamin A, C and E, beta-carotene and anti-oxidants, among other things. Pumpkin has no fat, no cholesterol and is very low in sodium and sugar. It's also low in calories (you darn, calorie counters!) - 1/2 cup is only 40 calories. Oh yeah, it's a Fall staple!
What to do with pumpkin?
Straight up side dish spiked with nutmeg, cinnamon, brown sugar
Add to chili for fiber boost
Replacement for oil and eggs in cake mixes
Mix with winter squash
Enhance thickness, texture and fiber of sauces
Add 1/2 cup to your morning oatmeal - yum!
Not enough for ya? Check out Libby's Recipes for more ideas!
The Great Mystery...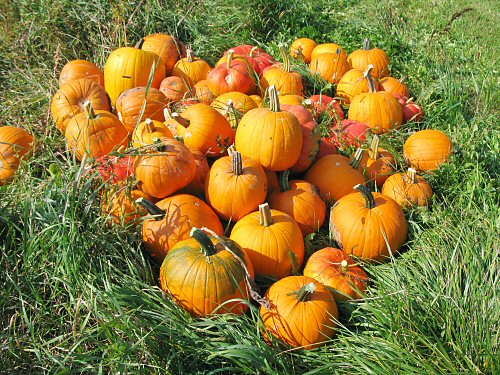 I don't fully understand what's going on, but I can only get my hands on the plain canned pumpkin starting in the fall and throughout the holidays. After that, the shelves are barren - only the canned pumpkin pie mix remains.
A few years ago, the pumpkin harvests were hit hard by bad weather and that was the reason for the MIA pumpkin, but one would think the industry would have bounced back by now.
The point is, stock up!
Buy in bulk to get you through the year until next fall.
Great Pumpkin, Charlie Brown!
The Hoff