Over the weekend, I dined at
VegiTerranean
- a vegan restaurant located in the hometown (Akron, OH) of rocker,
Chrissie Hynde!
IT WAS AWESOME!!!!!
VegiTerranean
is 100% vegan and kosher, with gluten-free capabilities.
It was so freeing to be able to order anything from the menu and not have to scrutinize or alter it. They even have an outstanding array of vegan desserts. So much so, that I found myself ordering two desserts; one for there and one for the road.
The staff is also amazing - so friendly, so attentive. Our waiter, Skip made our evening outstanding.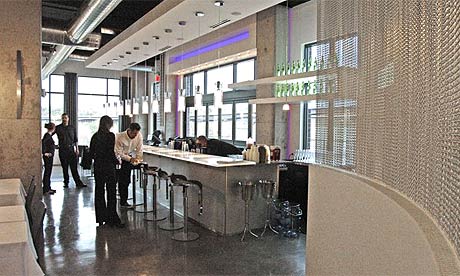 The restaurant is set amidst a newly constructed condo development in downtown Akron. It is so modern and sleek with touches of Pretender's memorabilia throughout that you will think you were transported to a posh New York City establishment.
Having been my first time there and celebrating my birthday, I went a little overboard.
Dinner began with the best bread of my life! Followed by an appetizer (really a side item) of
Chrissie "Best You've Ever Had" Fries.
These were good, but the Sweet Potato Fries were better. Yes, that's right - two orders of fries. Soup of the day was Broccoli "Cheese," that I could not resist. For my main meal, I had the
Chick'n Fried Portobello Steak - Tomato Basil Pan Cream Gravy, White Bean Mashed Potatoes and Braised Greens.
And then there was dessert...
Vegan bakery is hard to come by in the Cleveland area, so when I do find it, I get a little overindulgent. I simply had to try the Lemon Cake with Raspberry filling and the Chocolate Raspberry filled Cupcake. OMG people - that's all I can say.
Thank you
Chrissie Hynde for sharing your vegan lifestyle and bringing a such an awesome restaurant to an area in which trendy and vegan is a foreign concept.
VegiTerranean is truly a vegan treasure and I hope it thrives for years to come and spawns more dining establishments of the same caliber.
Check it Out:
21 Furnace St. Akron, OH 44308
MONDAY-SATURDAY
Lunch: 11a - 3p
/ Dinner: 5p - 10p
SUNDAY
Dinner & Full bar: 1p - 9p
Healthy Hoff Approved!
The Hoff